We design and build uniqueness: Custom portable fireplaces. All our fireplaces are constructed on a frame of expanding galvanized metal also in the interior of the fireplaces we install firebricks which gives out more heat. Each taking it's own time and care to build. Each fireplace is designed with the customer in mind. We build any size or shape, and we can also add a built in waterfall feature. We use no harmful chemicals.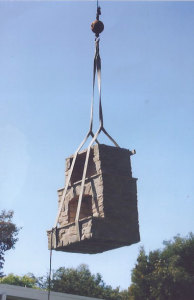 We build our fireplaces with the inclusion of gas, propane line hook up, or it may also be used solely for wood burning. They are one-piece units, on heavy-duty locking casters. Our medium size models can be moved by 2 people. Our larger models require more people to move a unit. Our portable fireplaces can be placed anywhere the customer desires. Your fireplace model will look like it was built in your backyard.
Each fireplace unit comes with everything you need to hook up to a gas line or a propane tank, or you may throw in some wood and get the fire started on the spot. Once received, there is no installation required, and is ready for use on the spot.
As mention, we also create water and fire combo units. As you have seen on the home page, the water/fireplace unit adds to the beauty of our custom works of art, creating an elegance of ambiance. You may purchase a remote control for any of our water features. Each water feature combo comes ready to use, just plug it in.
Delivery Cost:
Delivery within Orange County: $395.00
Out of Orange County, but within California: $450.00
This is the shipping price ONLY for Fireplaces units.
Any storage boxes, sitting or planter areas are an additional shipping price.
Expected Wait Time:
From date of purchase from with in California shipping is 2 weeks time frame, out of California is 3 weeks time frame.
Payment:
We except PAYPAL, VISA and MASTER CARD. We also except CHECKS.
Want to join the Southern Cal Fire team? Or are you interested in investment opportunities? We are looking to expand the business nationwide, so give us a call or email today. We would love to talk with you.
Phone:
(800) 452-1266
(949) 724-1478